Skip to Content
Silicone Roof Coating Systems
If you require a solution that sets up faster due to weather conditions and other environmental challenges, Metacrylics silicone systems stand second to none. We offer high solids and low VOC silicone formulations, and they are available in both roll grade and spray grade versions.
Benefits of Metacrylics Silicone
You'll find that our products offer a wide variety of benefits, such as:
High-Volume Solids
The contents of our silicone topcoats vs others carry significantly increased waterproofing and reflectivity when compared to other silicone top coats, making them ideal for locations that endure heavy precipitation and extreme temperature swings. The composition also offers enhanced overall durability and leak resistance.
Better Adhesion
You'll never need to worry about your coating tearing up or breaking down prematurely. Silicone carries better adhesion capabilities than other options, and it can stick to other pre-existing coats when you have the surface appropriately prepared.
Easy Application
While the silicone's natural properties already reduce the need for added labor and time, Metacrylics aims to make the process even easier by offering multiple methods for application. Select between sprays, brushes, and rollers to suit a wide range of roof surfaces.
Time and Labor Savings
The silicone coating's chemical makeup also reduces the complexity of installation. The high-volume solids form a much thicker coat upon initial application, which reduces the need for multiple passes and reinforcements to guarantee similar levels of protection. By eliminating those extra steps, you're gaining a quality product in a quick, efficient manner.
Low VOC Fluid Coating
Many manufacturers still use these dangerous materials at high levels in their products. To comply with California's stringent environmental regulations and foster a healthier ecosystem, we have significantly cut down on our use of volatile organic compounds (VOCs) without sacrificing the quality of our product in any way.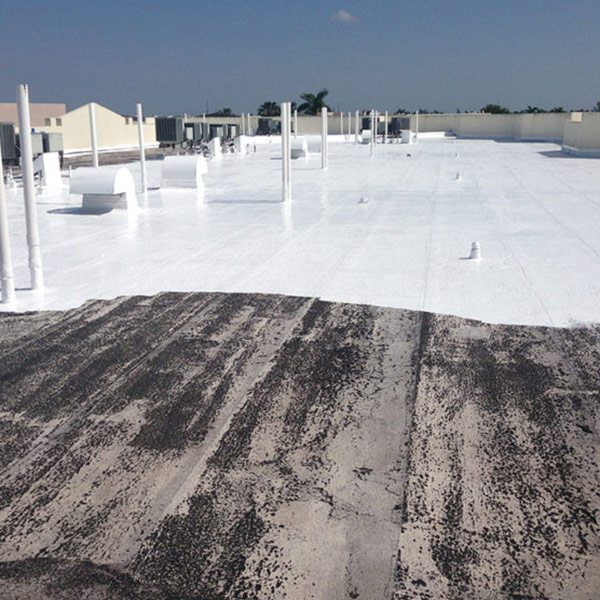 Different Applications for Silicone Roof Coating
You'll find that silicone roof coating can fit on multiple roofing surfaces with relative ease. It's an excellent choice for roofs that suffer from leaks or sagging but still maintain good structural integrity.
Common roof types that match up well with Metacrylics silicone coatings can be applied to smooth BUR/modified cap sheets, concrete, metal, and other single-ply roofing membranes.
As one of the biggest manufacturers in the industry, we've provided our services to many different clients and projects. We can work with universities, residential properties, government buildings, airport terminals, and others.
Benefits of Working With Metacrylic
Metacrylics utilizes a Total Service approach, which we've implemented for a long time with proven results and repeated acclaim. We stake our claim as more than silicone roof coating manufacturers, as we also believe in giving our customers a unique experience tailored to their needs and requests. Our trained, knowledgeable staff offer total technical service support from start to finish.
You'll also benefit from comprehensive, renewable warranties. Contact us today to get started on your project.
Contact Our Experts Today