Skip to Content
High Solid Silicone Top Coat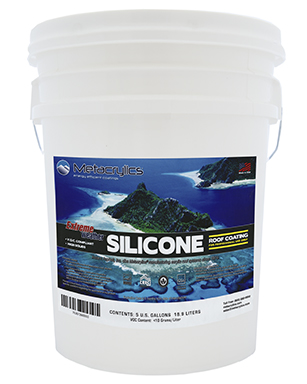 Documents
Available Packaging
5-Gal PAIL
50-Gal DRUM
250-Gal TOTE
DESCRIPTION a single-component, moisture curing silicone elastomer specifically designed with high volume solids. It is a pure elastomeric silicone roof coating that provides superior weatherproofing, andUV resistance over a  of roof substrates. The outstanding features of Metacrylics High Solids Siliconeis its high solids content, quick cure and its advanced physical properties. Metacrylics Silicone coating systems provide, Roofers, Facility  Managers, Property Owners, Architects and Consultants with cost effective roofing options that provide sustainable, renewable & environmentally friendly roof restoration solutions.
° Restores a variety of roof surfaces
° Low Cost Maintenance
° Quick & Easy Installation
° Withstands Ponding Water
° No Tear Off
° Saves Energy
° Reduces Heat Transfer
° Keeps interior of property cooler
° VOC Compliant
RECOMMENDED USES Can be applied as a part of a maintenance or repair program or as part of a complete roof restoration system. Can be used to reinforce and seal field seams, roof penetrations, drains, scuppers, flashings, membrane splits and cracks as well as spot repairs for general roofing maintenance. The roof surfaces that can be applied over are limitless; BUR Modified Bitumen (Granulated or Smooth), Torch-down, Metal, TPO, EPDM, PVC, Foam, Tar & Gravel and Concrete.
Contact Our Experts Today