Skip to Content
Metacrylics Family of Products
Metacrylics® Acrylic Top Coats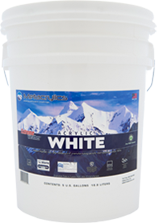 Extreme Weather Acrylic White (Specification-Grade)
This product is a white, water-based acrylic coating that is non-volatile and provides better adhesion, durability, and reflectivity. Formulated with the finest grade acrylic resins and without hazardous materials, Extreme Weather Acrylic White is our leading sustainable cool roof solution with 40 years of proven performance.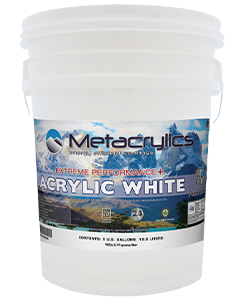 Acrylic Extreme Performance Plus
Our premium reflective coating product, Extreme Performance Acrylic White is formulated with superior acrylic resin and designed to provide the highest level of reflectivity, adhesion, and debris resistance. The result is a fully adhered, monolithic roof membrane that remains durable during harsh weather events and with maximum solar reflectivity while reducing roof and internal temperatures.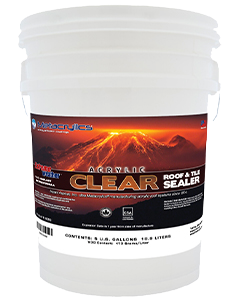 Roof & Tile Sealer
Our Roof and Tile Sealer is an acrylic coating developed to use as a seal or topcoat for roofing tile materials such as natural stone, terrazzo, metal, concrete, slate, clay, and previously coated acrylic surfaces. Additional formulations are also for use on walkways and decks and are available in over 50 colors.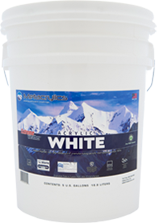 Extreme Weather Acrylic Color
This product is available in a wide variety of colors and offers the same qualities and benefits as our Extreme Weather Acrylic White blend, producing optimal adhesion, durability, and reflectivity.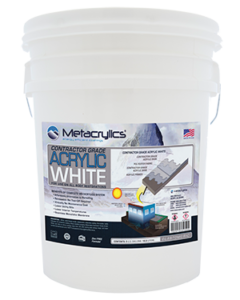 Contractor Grade Acrylic White
Formulated with a high-grade resin, Contractor Grade Acrylic White provides a durable, protective membrane designed to reflect solar heat, reduce roof and internal temperatures, protect the roof from harsh weather conditions, and withstand ponding water.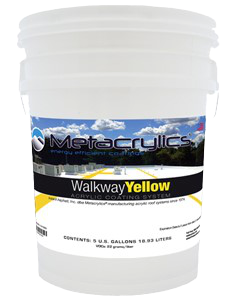 Walkway Yellow
This acrylic coating alternative to solid walkway products creates walkable paths to access points and areas that require routine maintenance. Walkway Yellow produces a textured surface and protects the roof from damage caused by frequent foot traffic. Install Walkway Yellow on coated or uncoated roofing surfaces, including BUR, asphalt, tar and gravel, granulated cap sheet, rolled roofing, metal, concrete, wood, foam, and much more.
Metacrylics® Silicone Top Coats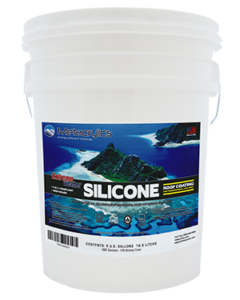 High Solids Silicone (Roll Grade)
Our Roll Grade High Solids Silicone is a low VOC, single-component, and fast-curing coating formulated with high volume solids that results in superior reflectivity, durability, weatherproofing, and UV resistance. HS Silicone is highly capable of withstanding ponding water, resisting debris, better adhesion when recoating silicone-coated roofs, and doesn't require fabric reinforcement or primers for most installations.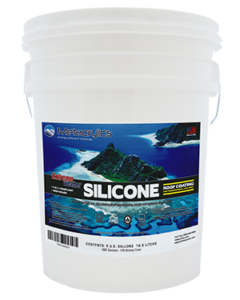 High Solids Silicone (Spray Grade)
Similar to Roll Grade HS Silicone, our Spray Grade High Solids Silicone blend provides maximum durability, weatherproofing, reflectivity, and UV resistance. Developed for spray installation, Spray Grade HS Silicone is a lower viscosity product compared to our Roll Grade Silicone blend and offers quick cure times for areas where approaching harsh weather may be a concern.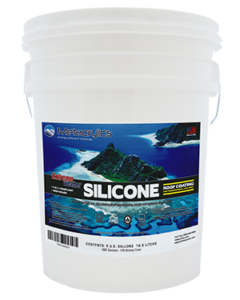 High Solids Silicone Color
Our High Solids Silicone Color blend is identical to our Roll Grade HS Silicone, meant for brush or roll installation, and comes in a wide range of colors.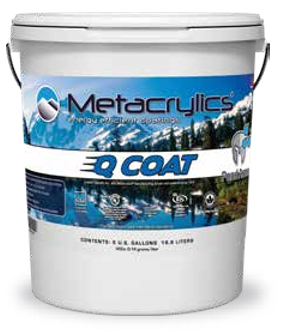 Metacrylics® Q Coat
Our Q Coat formula is a fast-setting, water-based acrylic roof coating blend applicable over virtually any roof substrate. We have formulated our Q Coat using advanced acrylic polymers, allowing it to be rain resistant within 30 minutes and recoatable in as little as two hours. Q Coat can be used as a reflective protective coating over so many types of materials, such as BUR, asphalt, tar & gravel, granulated cap sheet, rolled roofing, metal, concrete, wood, foam, EPDM, TPO, PVC, and stucco. Easily apply Metacrylics® Q Coat by spraying, rolling, or brushing over the intended surface. Our Q Coat blend offers many advantages, including:
Withstands Ponding
Rain Resistant in 30 Minutes
Recoatable in as Low as Two Hours
Low Odor
Apply With Standard Roof Coating Sprayers (One Part), or Rolled
Up to 30 Year Warranty Available
The Metacrylics Energy Efficient Coatings Advantage
Since 1976, Metacrylics Energy Efficient Coatings has offered only the best in sustainable cool roof coating systems our clients have grown to expect. Metacrylics® acrylic- and silicone-based coating blends are produced using the highest standards of manufacturing, and we are proud to provide world-class customer service in every phase of our business. Our proprietary roof coating products have 40 years of proven performance and are designed to deliver the long-lasting results are clients deserve. When you partner with Metacrylics Energy Efficient Coatings, you can expect the highest level of quality and unparalleled technical support. Get in touch with us today and learn how our products can maximize your building's protection.
Contact Our Experts Today